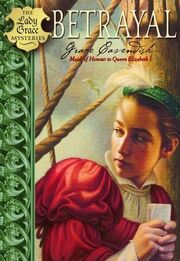 Betrayal 
is the second book in the 
Lady Grace Mysteries
. It is written under the pseudonym Grace Cavendish. 
Now that Grace is the Queen's secret "Lady Pursuivant" - a title normally reserved for those who pursue wrongdoers of the Crown - she can  hardly believe that a new mystery has fallen into her lap. But what else can it be when Lady Sarah, a fellow lady-in-waiting known for her fancy clothes and hoity-toity attitude, is missing and feared kidnapped by the dashing Captain Drake. Despite her hard feelings, Grace must help rescue Sarah ... or Sarah's sullied reputation will ruin her life. But was Sarah really kidnapped? It's up to the Lady Pursuivant to find out!
Ad blocker interference detected!
Wikia is a free-to-use site that makes money from advertising. We have a modified experience for viewers using ad blockers

Wikia is not accessible if you've made further modifications. Remove the custom ad blocker rule(s) and the page will load as expected.