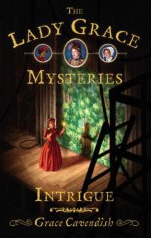 Intrigue is the ninth book in the Lady Grace Mystery series. It was published in 2008. The plot follows Grace trying to solve the actor Richard Fitzgrey's mysterious murder.
Plot Synopsis
Edit
Characters
Edit
Lady Grace Cavendish - The main character
Ellie Bunting - Grace's friend, the newly appointed tiring woman of Grace
Ad blocker interference detected!
Wikia is a free-to-use site that makes money from advertising. We have a modified experience for viewers using ad blockers

Wikia is not accessible if you've made further modifications. Remove the custom ad blocker rule(s) and the page will load as expected.