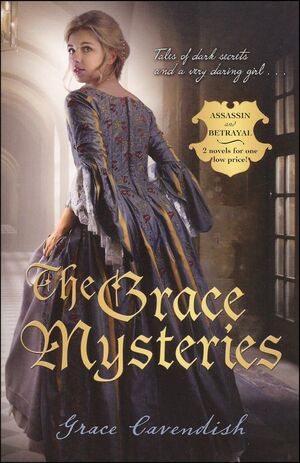 Lady Grace Cavendish is the main protagonist of the Lady Grace Mysteries; they are written as though in her own words. Grace is thirteen in the first few books, then fifteen by Keys. She is actually too young to be a Maid of Honour, but the Queen (who is her godmother) made her one after her mother died when she was twelve, leaving Grace parentless.
Appearance
Edit
Lady Grace often complains about not having much of a figure; she is skinny and flat-chested, though quite tall. She has fine mousy coloured hair, which is quite short (she has cut it on several occasions so she can diguise herself as a boy). Grace isn't really interested in getting dressed up and hates wearing face-paint. She is fond of pearls, however, as they were her mother's favourite jewel and often wears a pearl and diamond ring and a pair of pearl earrings her mother used to own.
Personality
Edit
Grace isn't some empty-headed nitwit like some of the other girls at Court; she is adventurous and quick-witted. She is best friends with Masou Al-Ahmed and Ellie Bunting and hates that she has to keep their friendship a secret (as it would not be seemly for a young lady of noble birth to keep such companions). She gets very annoyed when Masou and Ellie deliberately call her 'mistress' or 'my lady' when they are alone. Because Grace has such a knack for solving mysteries at Court, the Queen has secretly appointed her Lady Pursuivant. Grace enjoys keeping a daybooke, which is a bit like a diary. However, she has to be careful not to spill ink or the like on her gowns, which, unfortunately, tends to happen quite a bit! Grace hates seeing animals hurt and is not very good at dancing or horse riding; however, she is still a favourite with the Queen who is bored of girls who can only think of clothes and men. Grace is a bit of a tomboy; she loves exploring the palace, playing with the Queen's dogs and climbing trees. Grace has vowed never to get married, so she can be just like the Queen; although she did appear to have a soft spot for Lord Ruxbury!
Relationships
Edit