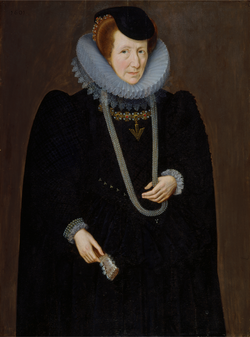 Mary Shelton is a roommate of Lady Grace Cavendish and of Lady Sarah Bartelmy. Mary has been caring and kind to Grace since her mother died, and the two are good friends. Mary occasionally helps Grace investigate her mysteries and does not ask why. This earns her Grace's trust.
Mary Shelton in the Books
Edit
Write the first section of your page here.
Mary Scudamore, the real Mary Shelton
Edit
Mary Scudamore (née Shelton) [1550-1603] was born to Margaret Parker and Sir John Shelton of Norfolk in 1550. As a young woman, she was Maid of Honour to Queen Elizabeth I. Mary was famous for being irritating, she was once slapped by the Queen (this is proved from historic evidence) She married the wealthy usher Sir John Scudamore, eight years her senior, in secret, however it was revealed to the Queen in 1574. According to legend, the Queen got into a fight with Mary and broke her finger. Their relations changed, however, and Mary Scudamore was promoted to Lady of the Bedchamber, a great honour. She died in 1603.
(Note: The Lady Grace Mysteries take place in 1569 and 1570, which would make Mary Shelton nineteen and then twenty during the series.)